Discover more from Popcorn And Patchouli
Sharing What I Love
Moments Became Years
In my head, 2010 doesn't seem so long ago, but somehow 12 years have passed in what feels like moments. I think most of us feel that way about time passing - especially as we get older - and I know you're with me on feeling like the passing of time accelerates as we get older - is it really already the middle of December? Wasn't it just July, yesterday?
By the time I stopped posting Carepages health updates back in 2010, I was consciously trying to think less about cancer. I really took to heart the nugget a chemotherapy nurse said back in 2007, paraphrasing - "Cancer doesn't make up all of you; it's only a part of your story. You're so much more that this disease." So I've tried to step away from cancer as much as I've been able over the years, but the truth is, at times, it's challenging.
When sifting through my calendar and looking over my health records, I see that a lot of my time and energy has been devoted to cancer-related surgeries (hysterectomy, breast reconstructions, lymph channel bypass, lymph node transfer), serious infections (three hospitalizations for cellulitis in my right arm - the arm with chronic lymphedema), procedures (biopsies, bronchoscopy, ultrasounds, x-rays, CT scans, MRIs, PET scans), scares (uterine bleeding, nodules on lungs, enlarged lymph nodes), therapies (physical therapy, lymphatic drainage, acupuncture, massage, Reiki, yoga) and so on.
Despite this checkered health history, I've been determined to figure out how I was going to move forward, balance my ebbing and flowing energy, nurture my creativity, and stay engaged in life. Some of the highlights include traveling in and out of the country; organizing for friends, family and eventually clients; witnessing Ethan (my stepson) grow into a beautiful, happy and thriving adult (he's pursuing a degree in education - and I believe he's found his true passion). I've spent precious time with family and friends. We majorly renovated our Houston home twice (once because we wanted to, and another time because Hurricane Harvey caused us to). I fell head over heels in love with quilting (posts and pictures to come). I remain a doting guardian to between three and five cats - four at the present moment. We sold our Houston home during the pandemic and moved to Chicago and dove right into renovating our home here. I'm glad that I've put down in words a bit of what I've been up to - it's good to be reminded that much of my time and energy has, indeed, been devoted to non-cancer related stuff. It feels quite satisfying.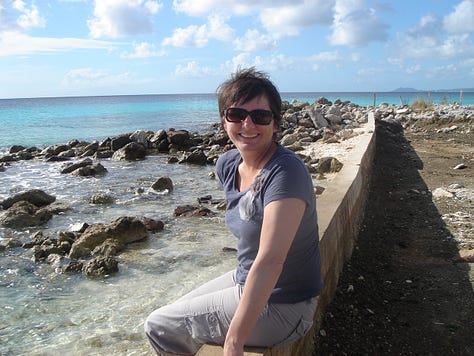 Along the way, I've thought a lot about my original Carepages, and what I wanted to do with them. I eventually decided to post them on this platform (they're backdated if you'd like to read them - the beginning is April 5, 2007). They are there as a record of a difficult time in my life. As hard as it was to push through that time, I was uplifted and remained so because of my family and friends - you'll see evidence of that in their comments - one of the many ways I felt supported. To this day, I am grateful.
I'm not sure if I'm back to posting now because I want to pick up with the next part of my story, to share my quilts, pictures of my cats, rally the troops or simply stay in touch. Whatever the reason, because my heath is what kicked off my Carepages posts 15 years ago, I'll make that my next post.
Lisa
Thanks for reading Popcorn and Patchouli! Subscribe for free to receive new posts and support my work.